InPACTO launches National Campaign to Combat Slave Labor
The National Campaign to Combat Slave Labor is officially launched. Promoted by InPACTO, the action aims to increase the knowledge of civil society on preventing and combating slave labor through easily understood communication products that show situations that constitute slave labor according to Brazilian legislation.
The campaign, which is national in scope, aims to draw the attention of consumers, workers, employees, suppliers and employers to the issue.
We created and organized this material so that you and your company or organization can participate by spreading our content to employees, partners, colleagues (and friends, family, neighbors)! Invite them to read and relay these pieces of communication.
The materials for this campaign were carefully prepared to help society in general to understand what Modern Slave Labor is, to learn to recognize suspicious situations, and in this case, to know how to report through safe and official channels.
Campaign folder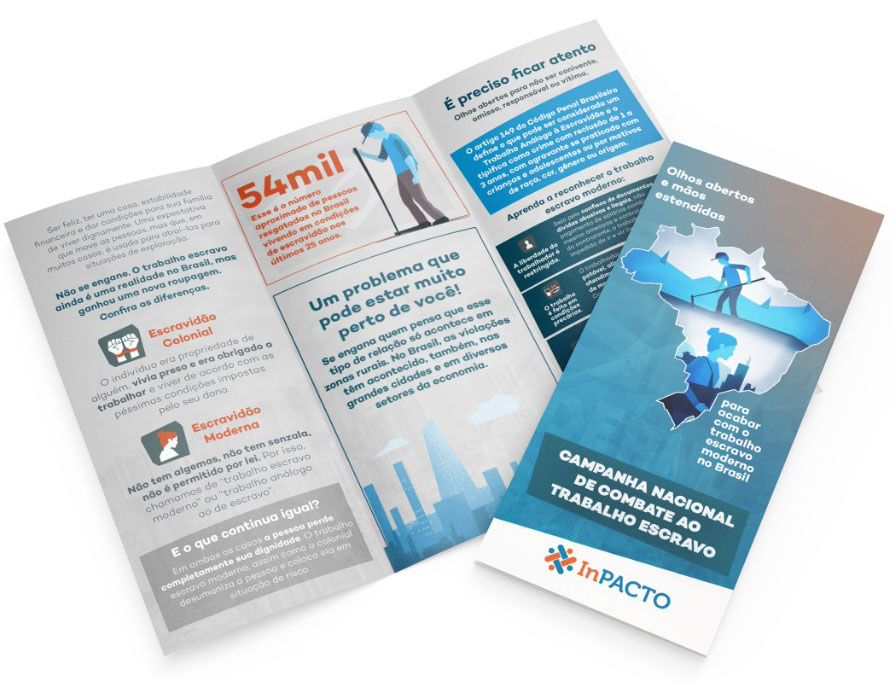 Campaign Videos
Learn the history of the characters Carlos and Cláudia, and through them, learn to recognize situations of modern slave labor in the countryside and in the city!
Social Medias
Over the next few days and weeks we will have an intense production of content on our social networks. Follow our profiles and help share!
Linkedin Facebook Instagram Youtube
Now it's up to you!
Discover our Campaign Disclosure Manual and participate! Help share this idea and fight slave labor in Brazil!
Would you like to stay informed through news of this type? Fill out our form.