June 12 Special: Day Against Child Labor
On this 12th of June, which marks the World Day against Child Labor and the National Day to Combat Child Labor, InPACTO recalls the importance of the theme.
Eradicating all forms of child labor is among the Sustainable Development Goals. More than ever, in a context of pandemic and increased social vulnerability, it is necessary to join efforts to protect our children and adolescents from all forms of exploitation.
COVID-19 and Child Labor
The risk of child labor tends to increase significantly based on the socioeconomic impacts of the COVID-19 pandemic in countries where inequality and social injustice are still a huge challenge, as in the case of Brazil.
If, on the one hand, social isolation is the most effective measure to curb the advancement of COVID-19, on the other, without comprehensive emergency policies, it opens up and enhances the social weaknesses of the most vulnerable populations. Increased unemployment, reduced income for mothers who depend on the informal market, impossibility for children to attend school, and consequently, reduced access to food (school meals), puts families in an even more serious situation. And all of these are factors directly related to child labor.
So much so that this June, a campaign by the International Labor Organization (ILO) in partnership with Labor Justice, the Public Ministry of Labor and the National Forum for the Prevention and Eradication of Child Labor (FNPETI) aims to "raise awareness in society and the State on the need for greater protection for this portion of the population, with the improvement of measures to prevent and combat child labor, especially in view of the socioeconomic vulnerability resulting from the crisis caused by the new coronavirus ". Read more on the ILO.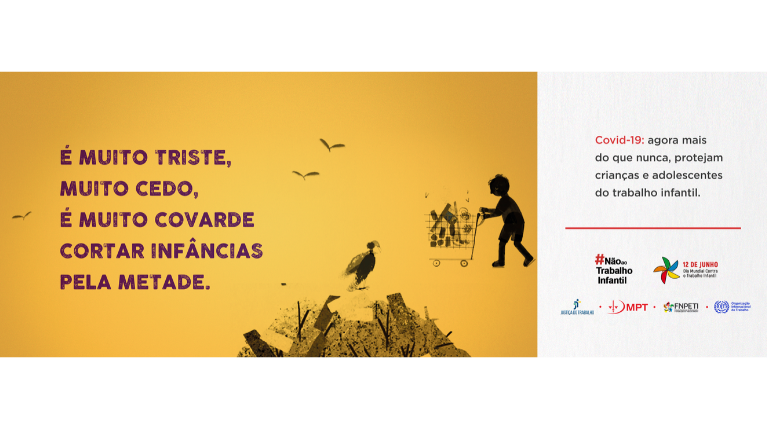 InPACT and Child Labor
Since 2017, InPACTO has been dedicated to studying the factors that make populations in a municipality or region more vulnerable to slave and child labor.
Click here to learn more about the InPACTO Vulnerability Index.
At the Annual General Meeting held in April 2018, the institute approved, at the request of its members, the possibility of taking action to combat child labor in the productive sector.
The demand was inserted in the revision of the statute that expanded the scope of InPACTO's work - from an exclusive focus on combating slave labor to an approach to promote human dignity, decent work and also to combat child labor.
Since then, the institute has started a process of improving the theme to incorporate the demands to combat child labor in production chains. Contact us to find out how to support this initiative.
The role of companies in combating child labor in production chains
Until the 90s, the discussion on Human Rights revolved around abuses that could be committed by States. This began to change when, in 1996, an American journalist traveled to Pakistan to investigate allegations of child labor. "Six cents an hour" was the name of the story that told the story of twelve-year-olds who produced soccer balls for Nike. Balls they could never play with.
The report generated the first big wave of consumer boycott campaigns for a brand and led Nike to invest in controlling working conditions more effectively in its production chain. The repercussion of the case also contributed to the UN starting discussions on a possible treaty on Human Rights and Business. In the past 25 years, discussions have come a long way.
In 2011, the UN Human Rights Council unanimously approved the "Guiding Principles on Business and Human Rights". In the same year, the OECD launched the Guidelines for Multinational Enterprises, which "set standards for responsible business conduct on a range of issues such as human rights, labor rights and the environment. The OECD Guidelines also establish an exclusive international grievance mechanism, supported by the government, to deal with complaints between companies covered by the OECD Guidelines and individuals who feel negatively affected by irresponsible commercial conduct ".
Added to the pressure from civil society, these transnational regulatory initiatives have boosted the creation of a series of national laws to address the issue. Estimates indicate that more than 50 new national laws imposing mandatory requirements on companies to disclose information about labor issues in their supply chains have been approved since 2009. Among them are the California Transparency in Supply Chains Act (2012), UK Modern Slavery Act ( 2015), France Corporate Duty of Vigilance Law (2017) and Australia Modern Slavery Act (2018).
Understand the concept of Child Labor
The latest global estimates indicate that 152 million children - 64 million girls and 88 million boys - are in child labor worldwide.
Do you know what that means? It means that 152 million children are subjected to work as if they were adults, or in extreme conditions, in much worse situations. Child labor is characterized by activities:
- Mentally, physically, socially or morally dangerous and harmful to children;
- Harmful to their school life as they can: deprive them of the possibility of attending school, force them to leave school prematurely or even harm their studies, when trying to combine school attendance with excessively long and heavy work.
In its most extreme forms, child labor involves enslaved children, separated from their families, exposed to risks and serious illnesses or forced to defend themselves from the risks of the streets of large cities.
Is all work done by children child labor?
According to the United Nations, the term "child labor" can be defined as "work that deprives children of their childhood and is harmful to physical and mental development". Therefore, not all activity performed by children should be classified as child labor.
For the ILO, the participation of children or adolescents in work that does not affect their health and personal development or interfere with their education can be considered positive. In its page on the topic, the organization cites as an example of positive activities - and of short duration - assistance at home or in a family business, outside school hours or during holidays. "These are jobs that provide skills and experience to help prepare them to be productive members of society during their adult life," explains the information material on the issue.
Therefore, helping at home has nothing to do with child labor, as long as this help is in activities that do not steal your childhood, do not hinder your development.
+ Data in Brazil
According to IBGE, "in 2016, 1,8 million children aged 5 to 17 years worked in Brazil. More than half of them (54,4% or 998 thousand), at least, were in child labor, either because they were 5 to 13 years old (190 thousand people), or because, despite being 14 to 17 years old, did not have the portfolio registration (808 thousand) required by law. This is shown by the PNAD Thematic Module on Child Labor ".
What does Brazilian law say?
In Brazil, child labor is prohibited by law. According to article 7 (item XXXIII) of the Federal Constitution, the minor worker must be between 16 and 18 years old. In the Consolidation of Labor Laws (CLT), the minimum age is 14 years old as a minor apprentice. In this case, hiring implies the fulfillment of several requirements, keeping the young apprentice free from activities that may compromise their training, physical, psychological, moral and social development. Schedules also need to be respected to avoid disrupting school attendance. The activity cannot harm growth, education or family life and should offer conditions for its integration with society.
Worst forms of child labor
On June 12, 2008, Brazil published the DECREE 6.481, which approves the List of the Worst Forms of Child Labor (TIP List), based on ILO Convention 182.
According to the decree, 89 activities related to Agriculture, Livestock, Forestry and Forestry, Fishing, Extractive Industry, Transformation Industry, Production and Distribution of Electricity, Gas and Water, Construction, Trade (Repair of Motor Vehicles, Personal and Household Objects), Transport and Storage, Health and Social Services, Collective Services, Social, Personal, Domestic Services, among others are prohibited for minors under 18, as they are harmful to safety and health.
Read the Decree to find out the list, the likely occupational risks and the likely health repercussions.
These are activities that can subject children and adolescents to long working hours, heavy physical work, poor conditions, low wages or even non-payment, impaired learning, dropout or school lag, impaired development, exposure to accidents, violence, humiliation , physical or emotional abuse and mistreatment.
Text and infographic: Daniele Martins - Project Coordinator at InPACTO and Master's Student in Global Governance and International Policy Formulation at PUC / SP
Would you like to stay informed through news of this type? Fill out our form.